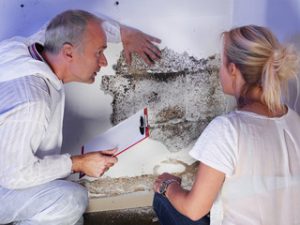 Your home is such an important part of your life. It's where you spend time with loved ones and make cherished memories. It's where you relax and unwind after a hard day at work.
But while you relax, dangerous household mold growth can cause any number of health risks.
From allergies to lung damage, you and your family are at risk if there's even a slight bit of mold in your home.
To keep your home mold free, it's recommended that homeowners regularly inspect their home.
Wondering if you need a mold inspection or what it entails? Here's everything you need to know about keeping your home free of fungus.
How Do I Know if I Need a Mold Inspection?
First and foremost, you're likely wondering how to tell if it's time for a mold inspection. In general, you should have your home tested for mold whenever you suspect a fungal presence.
Of course, mold doesn't always make itself visible, especially if it's growing behind your walls or under the floorboard.
Generally, there are a few telltale signs to help you determine if mold is present.
For instance, if you constantly notice a wet, musty smell but can't detect any moisture, there's a high likelihood that your pipes or roof are leaking and causing mold growth.
Additionally, you may experience common allergy symptoms such as a runny nose or red, itchy eyes, sneezing or coughing.
What Occurs During a Mold Inspection
Calling a mold assessor specialist should be your next step. But what exactly happens when house mold inspectors come to your home?
First, they'll look for any visible signs of mold in areas like vents and your HVAC system. They may also look for water damage in your attic, another common facilitator of mold growth.
Additionally, they may perform a moisture survey of the interior surfaces inside the home. Even if the inspector doesn't see visible signs of mold, he or she will then use infrared imaging as well as radio waves moisture meters to detect any hidden problems.
Next, the expert will discuss their findings with you to determine your best course of action. If they believe mold is present, they may take samples for testing through a laboratory.
All in all, a mold inspection is a quick, non-invasive process that shouldn't take more than a few hours.
Is a Mold Inspection Worth It?
As you read this, you may think to yourself, "Is a mold inspection really necessary?"
In short, yes, you're better off safe than sorry.
Aside from health issues, mold damage can cause thousands of dollars in potential damage. The sooner you enlist the help of your local house mold inspectors, the better.
Call For an Inspection Today
Household mold can be a little frightening if you're not sure how to handle it. But rest assured, calling for a mold inspection can prevent any major damage to yourself, your loved ones, and your home.
If your home may have mold, get in touch today. We'd love to show you why thousands of Orlando residents trust us to inspect and test for dangerous mold from their homes.